Offbrand Cotton Lavender Blouse - FREE SHIPPING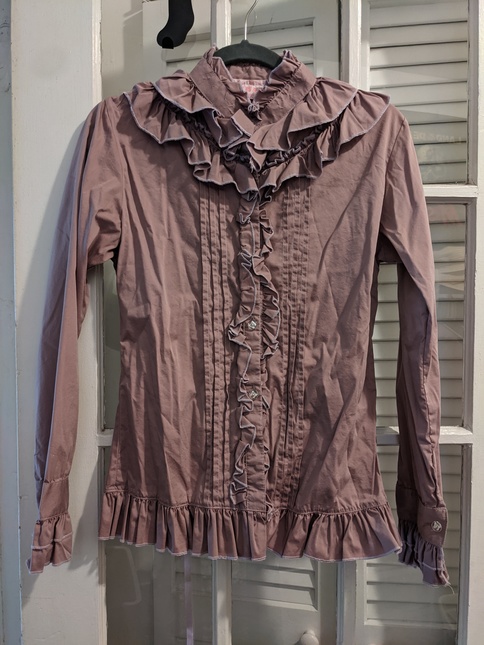 Long sleeve cotton blouse, great for sweet or classic coords! A bit wrinkled but otherwise in good condition.
approx Measurements:

in the back there is corset lacing so it can go tighter

Bust- 38in (there is a little give)
Waist- 33in
Length- 27in
Sleeve width (at top of arm)- 14in
Sleeve length- 24in
Wrist width- 8in
Shoulder width-16in
---
Shipping to United States:
$0
---
This item does not ship outside United States
---
Condition:
Good
---
Brand:
Chinese Indie Taobao
---
Style:
Sweet
,
Classic
---
Colors:
Purples
,
Pastels
---
Category:
Blouses
By purchasing from me you agree to the following: 1. Paypal or in-person transaction only. 2. Seller has cats. Clothes will be cleaned before shipping but some cat hairs may still be on the clothes. 3. Shipping policy: -Items over $20 will be shipped via USPS priority with tracking. -Items under $20 will be shipped first class or priority at seller's discretion or buyer's request. Buyer must ask for tracking. -Shipping rates are estimates. If the actual shipping price is at least $4 cheaper than what I charged, I will refund you the difference. 4. Special notes for international shipments: -If the item is over $30 and you want the cheaper untracked (first class) shipping, I will not refund you if the package gets lost. -Untracked shipping includes a customs #. Sometimes this can be used for tracking but it's not guaranteed. -I will not mark down the package value for customs.
Buy it Now placed by heyitsbee for $15 on 2021-03-18 21:55:35 UTC