Innocent World Floral Socks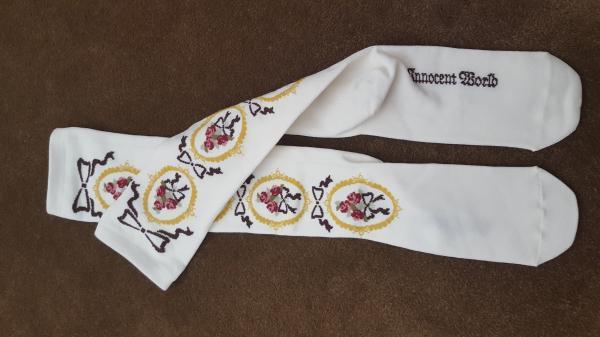 Sold for:
$8
Sold on: 05/26/16
Sold to:
larebear
(
+47
,
-0
) (78229)
---
Sold by:
Seller location:
45239
USA

Innocent World Floral Socks

Innocent World Floral Socks New without tags
INTERNATIONAL SHIPPING: Buyer must comment for shipping quote


---
Shipping to United States:
$4
---
Shipping outside United States:
Contact seller for quote
---
Condition:
Like New
---
Brand:
Innocent World
---
Colors:
Creams
,
Gold
,
Reds
---
Category:
Socks and Tights
Attention all buyers: ***ABSOLUTELY NO PARTIAL/FULL REFUNDS*** Unless otherwise specified, you are purchasing a used item and certain small defects (small snags or peeling in footwear, wrinkles, loose threads, etc) are to be expected. I will do my best to disclose these things with pictures/description so the buyer is aware. If you purchase from me, you are comfortable with buying a second hand item and agree to any small issues that might be present. Likewise, anything that clearly happened during shipping or while buyer was opening their package (someone sliced into a box, large spills, etc) are the buyer's responsibility. I have cats and a dog. I will do my best to remove pet hair, but please be advised if you have allergies. If buyer does not respond within a reasonable amount of time (one week), I will relist the item and leave negative feedback. Paypal invoices ONLY. I am open to payment plans, providing you have previous good feedback. All sales are FINAL. If you back out of a sale for whatever reason, I will leave negative feedback. I reserve the right to refuse to sell to you if I find your feedback on LM to be sketchy or bad. I am not responsible for lost packages. I will give you a tracking number, and then it is out of my hands. If you provide an incorrect address and the mail is returned to me, I will ship out to your correct address (with additional shipping fees). If your Paypal address is incorrect, you are responsible for where the package ends up. I generally ship within 3 business days, but will guarantee that I ship your package within one week. Please let me know if you have time restrictions and I will ship asap. I ship in padded envelopes unless otherwise noted (ex- bags, hats, etc usually go into boxes) I will do my best with measurements of garments, but please take with a grain of salt! I am not a professional. If you purchase a US-only shipping item and you live in another country, I reserve the right to cancel the sale and leave negative feedback. If I decide to ship to your country, you agree by buying the item to pay for shipping. Shipping internationally is more expensive, please be advised. **Sometimes if you leave shipping blank while creating LM auctions, it marks the shipping cost as $0. Please be advised that my auctions will NEVER have free shipping!! If the shipping is marked as $0, that is a mistake and I will charge you an appropriate amount of shipping via paypal with your invoice. Thank you!** What it means to "combine shipping": If item A costs $15 to ship and item B costs $5 to ship, I will combine them in one box that (hopefully!) ships for cheaper than the original total amount ($20).
Bid placed by larebear for $9 on 2016-05-19 21:32:25 UTC