AP French Ribbon Necklace, Bangle + Barrette set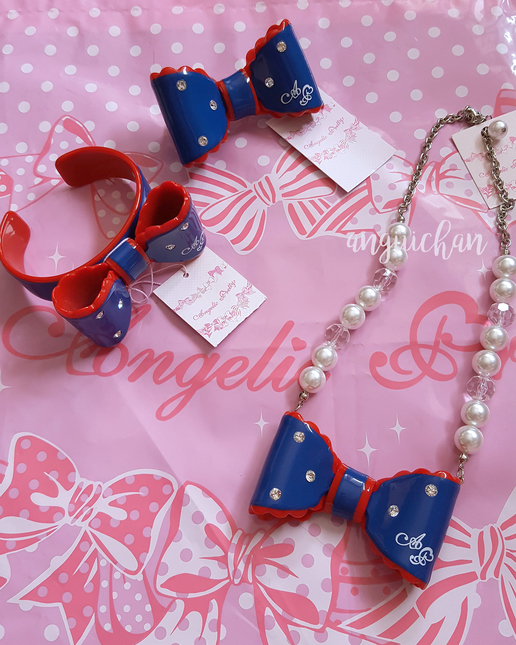 Sold for:
$70
Sold on: 02/10/17
Sold to:
kirstie20plus
(
+56
,
-0
) (Australia, Tasmania)
---
Sold by:
Seller location:
Adelaide, SA Australia
Oceania

Price: $70
Size: one size fits all
Colour: Blue and red
Condition: Set includes: necklace, bangle, barrette. Bought brand new, never worn. Still in original packaging with tags attached. Only taken out for photographs. Perfect touches for all your tricolour outfits.

Please read Seller's terms of sale BEFORE bidding. Thank you!
INTERNATIONAL SHIPPING: Please ask for a quote before bidding


---
Shipping to Oceania:
$5
---
Shipping outside Oceania:
Contact seller for quote
---
Condition:
New With Tag
---
Brand:
Angelic Pretty
---
Style:
Sweet
,
Country
,
Otome
,
Casual
---
Colors:
Reds
,
Blues
---
Category:
Necklaces/Choker/Collar
Please make all enquiries PRIOR to bidding. Once you make a bid, it is assumed you have read and agree to these terms and conditions. I have the right to refuse sale to any potential buyer who does not read and comply with my terms of sale and additional terms in item description. Please ensure they are read and understood. Please message PRIOR to bidding about shipping charges or other questions and queries. All sales final, no refunds or returns accepted. -------------------- ITEM DESCRIPTION -------------------- ・Please read the item description carefully. All items are sold as secondhand, as-is. ・Item descriptions are accurate only to the best of our knowledge after careful scrutiny. Buyer must be aware that certain conditions/damage may be unbeknownst to us. ・Any known damage will be stated clearly, photos provided with clear indication of damage. ・Please be aware: I have a a pet cat and two rabbits. Stray furs may be inevitable. ・Photos are all our own, taken in natural light, no flash. Lighting in some photos may have been altered on photoshop to rectify dark/yellow light. -------------------- PAYMENT -------------------- ・Payment via Paypal only, within 48 hours of invoicing (or as otherwise organised). ・Paypal fees are included in the price but shipping fees are NOT included. Please ask for a quote PRIOR to bidding. -------------------- PAYMENT PLANS -------------------- ・Accepted at our discretion with 20% non-refundable deposit ・No longer than 4 weeks (unless arranged prior to bidding) ・MUST be negotiated prior to bidding -------------------- SHIPPING -------------------- ・If paying by Paypal invoice, international shipping via Standard (tracking included) or Express (tracking + signature included) ONLY. ・If you are willing to pay the full price of the item by Paypal payment to family/friends, we will consider sending your parcel by Economy (no tracking), at our discretion. ・The option of untracked letter shipping is available for certain items given the nature of their size and value. Payment MUST be by Paypal payment to family/friends. This method may take between 15-35 business days to arrive. Proof of shipment in the form of a photo of the packaging with shipping address AND a receipt of shipping purchase, which will be sent to the buyer's email address. THIS METHOD WILL ONLY BE USED WITH THE BUYER'S EXPRESS CONSENT AND AGREEMENT TO THESE ADDITIONAL TERMS. ・Once a parcel leaves our hands, we will not be responsible for any loss or damage. ・Items will be shipped the next available day we can access the post office. ・Regardless of your shipping option, you will be given proof of shipping or tracking number as soon as practicable. ・If you believe there is an issue with delivery (late/missing) please contact me via Lacemarket message and I will inquire with Auspost. You may be required to make inquiries in your home country and I ask for your cooperation, understanding and patience during this process.
Buy it Now placed by kirstie20plus for $70 on 2017-02-10 06:00:40 UTC