Angelic Pretty Toy Fantasy OP and Headbow Black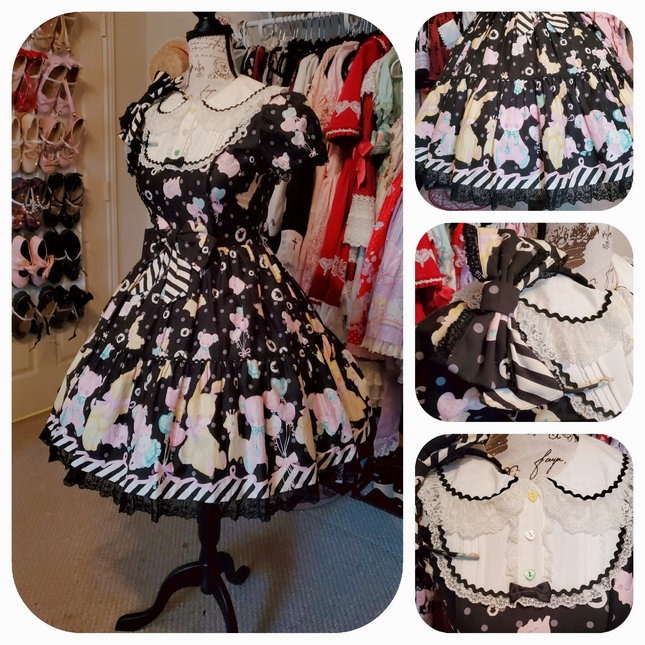 Sold for:
$210
Sold on: 04/12/21
Sold to:
anna199124
(
+30
,
-2
) (19701)
---
Sold by:
Seller location:
78737
USA

Comes with headbow

No stains that I can find . Worn twice by me.


---
Shipping to United States:
$15
---
Shipping outside United States:
Contact seller for quote
---
Condition:
Like New
---
Brand:
Angelic Pretty
---
Style:
Sweet
---
Colors:
Black
---
Sizing Notes:
Petite
---
Max Bust:
36
---
Max Waist:
30
---
Category:
Dresses
I do accept payment plans and holds with a deposit regardless if it's a bid or not. Holds require a non refundable deposit, payment plans can't be longer than a month. I only send through goods and services, unless it's a nonrefundable deposit. No Trades BLACKLISTED : ZOEOSAKI After a recent altercation with shipping international I will no longer be shipping international other than to Canada because if never had issues with them. If your international package is delayed or stuck in customs do NOT complain to me, talk to your post office. If a package gets lost via the mail service, I can only offer a partial refund since it's a loss for both parties. ALLERGY WARNING: I do have cats and dogs, even though I keep them away from my lolita stuff their hair gets everywhere so keep that in mind. I always lint roll all my items before shipping them out to get off any hairs.
Buy it Now placed by anna199124 for $210 on 2021-04-12 16:04:27 UTC